GBC Students Mission Statement:  As a ministry of Gretna Baptist Church GBC Student Ministries exists, in partnership with families, to enable young people to understand and recognize who Jesus is, to equip them to develop a deeper relationship with Christ, and to train them to be a light in the darkness of an ever changing world.
Sunday
GBC Students meet each Sunday morning from 9:15-10:15 am for a time of Bible Study and prayer.  This class is taught by Brian Cupps and meets in room 105 (through the foyer turn right into the fellowship hall and proceed all the way down.) They utilize the Explore the Bible Curriculum from Lifeway.  They are currently studying the Gospel of John.   This class is for all 6th-12th grade students.   After this class is over, students move to the auditorium for the morning worship service.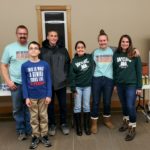 Wednesday
Youth group meets every Wednesday through the school year from 6:30-7:30 pm in the auditorium.  There is a hang-out time from 5:30-6:25 pm filled with snacks and a variety of games followed by the regular youth group time.  This is a fun, relaxed time with games and a lesson.  Currently they are currently walking through various doctrinal truths such as, justification, sanctification, baptism, etc.   Brian Cupps teaches this lesson with support from Dustin and Whitney Meek. This time is open to all students in 6th-12th grades.  Students do not need to regularly attend GBC in order to take part.  All are welcome!
Service
Every year GBC students are involved in various service opportunities in our community. 
These include packing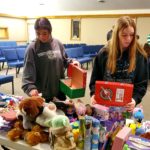 food boxes for families in need, aiding with a food drive for the Gretna Neighbors Food Pantry, serving members of our community with projects in the homes, working as cooks, staff, or cabin leaders at camp, and several others.  We believe strongly that we are here to serve our community and be the hands and feet of Jesus. 
Camp
Each year we attend a spring and fall youth retreat, as well as weeks of summer camp at Whispering Cedars Baptist Camp. This is the highlight of our year.  Getting away from the city and spending a week on 100 acres of God's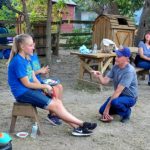 creation in central Nebraska with 100 of our closest friends where we learn more about God and His Word and deepen relationships with each other is just what we need after a long school year.  For more information on our camp, visit whisperingcedars.org.
Events
Sprinkled throughout the school year there are several opportunities for students to get together outside of our normal Sunday and Wednesday times to hang out and have fun.  Whether it is FaithFest in September with 15+ inflatables, bubble soccer, bazooka ball, archery tag and 700+ of our closest friends; the Winter Games event in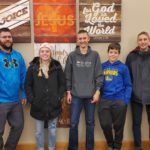 January for tacos, ice skating, and sledding; the March Madness lock in where we stay up all night with football, soccer, basketball, and volleyball tournaments, along with bowling and waterslides; or progressive suppers, movie nights, trips or Vala's Pumpkin Patch or game nights, there is plenty to keep everyone busy!